05 Apr

Pickleball – Crazy fun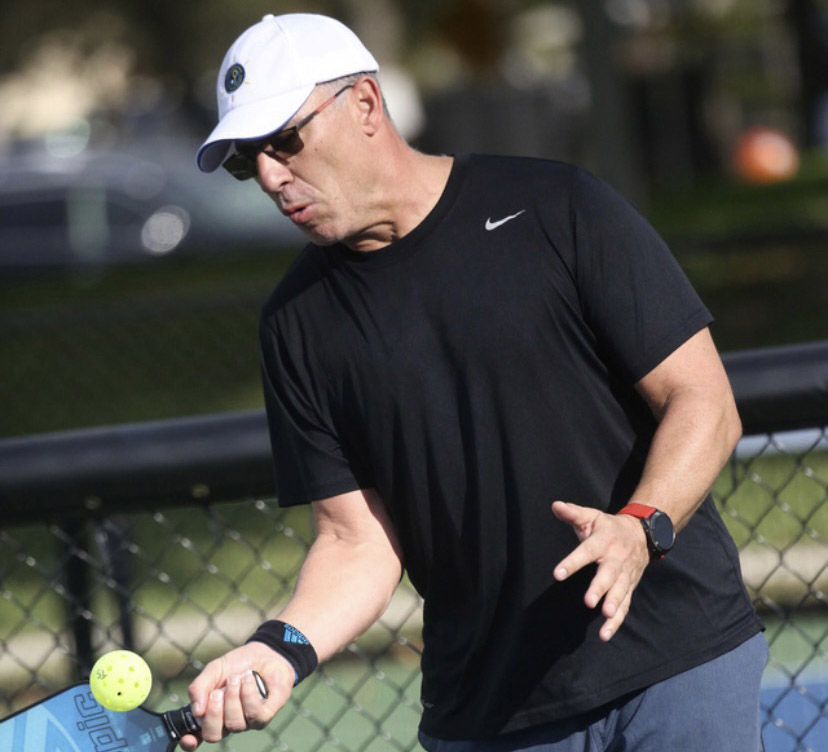 They say Pickleball is a combination of tennis, badminton, and ping pong. The first time I played I felt like a giant standing on a ping pong table! The paddle was short. The ball didn't bounce much and oh my back hurt. I have played tennis for years but was sidelined due to a shoulder injury. My shoulder was fine in Pickleball. Soon I became hooked.
Often I would go alone to the local courts and jump into games with strangers. In the same session, I'd play a 20-year-old and an 80-year-old. Guess who beat me. Yup the 80-year-olds. But unlike tennis, there was a friendly vibe. People rotate in and out. No reservations. Just show up. And burn over 1000 calories!
Pickleball was invented in 1965 as a backyard sport for a bunch of guys that were bored. I wonder how I didn't find out about this until this year. Originally I was told it was for the retired crowd as it blew up in the 55+ communities. The number one player in the world right now is 21! So obviously it's not. It is crazy fun. Extremely social. And an amazing workout. Injuries can occur. My office is seeing more and more of them. My Tuesday night game has seen its share of payers go down. And I'm not immune to that.
This sport requires quick feet. Constant change of direction. Movement in all directions. As you get playing at higher levels the action is quick. Unpredictable. And requires quick reactions with arms and legs!
Like tennis, basketball, and soccer Pickleball can result in chronic injury but also acute.Most commonly acute injuries occur to the shoulder and wrist. Low back and hamstring strains are also extremely common. Knee injuries such as ACL and meniscus tears are increasing. Ankle injuries such as sprains and Achilles' tendon rupture are occurring often enough to keep even the daily player out and frustrated. This sport is so addicting that recently I repaired a ruptured hamstring in a player that insisted on playing 6 weeks postop. Usually, it's more than 3 months. I can't keep these players off the court.
Chronic overuse injuries like rotator cuff tears, wrist tendonitis, patella tendinitis are afflicting players of all levels.
This is a serious sport. It's not a casual backyard affair. Ride by some courts and you will see people going at it. Smacking the Wiffle ball at each other. Celebrating their best shots by tapping their partner's paddle with theirs.
So before you consider this sport be prepared! If you haven't played sports in a while getting to the gym and start working on strength training. Balance exercises especially as we get older can help prevent falls. It's a very unique sport in that you will find yourself playing against people much younger than you. It elevates your game but increases risk. Being prepared for any sport is key to injury prevention.
Sneakers are not all created equal. Court shoes are a must. They are flat on the bottom with treads that can hold onto the surface but allow a little sliding when needed. Running shoes are horrible for court sports. The treads are too deep and sticky and provide little ankle support.
Pickleball is no different than any other activity when it comes to warm-up. Actively warm up with a light jog, sprints, and squats to get your muscles warm and heart rate up.
Recovery from playing is extremely important. If you are feeling fatigue or even pain from a minor injury, time to recover before your next day on the court is important. Many people love playing daily which isn't always possible without increasing risk of injury. Listen to your body. It knows what you need.
Pickleball is an amazing sport. Have fun. Be safe. And I'm sure you'll get addicted. Like me.